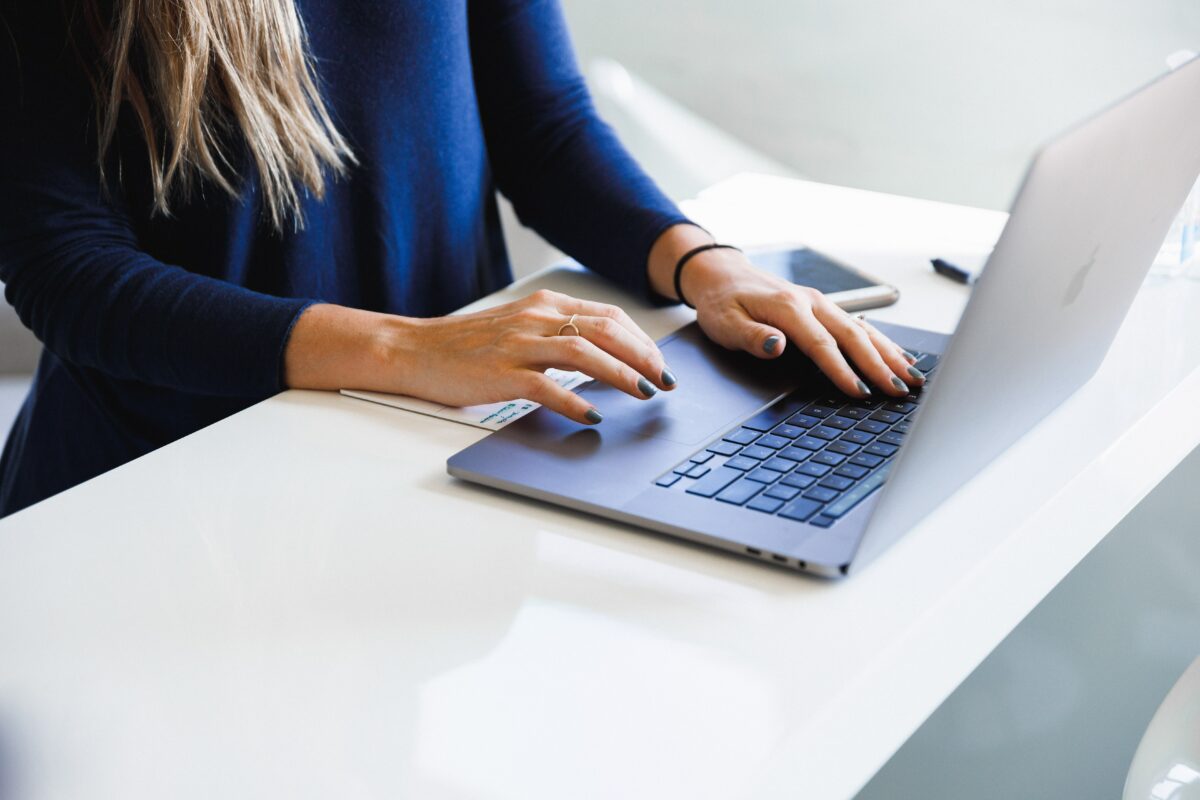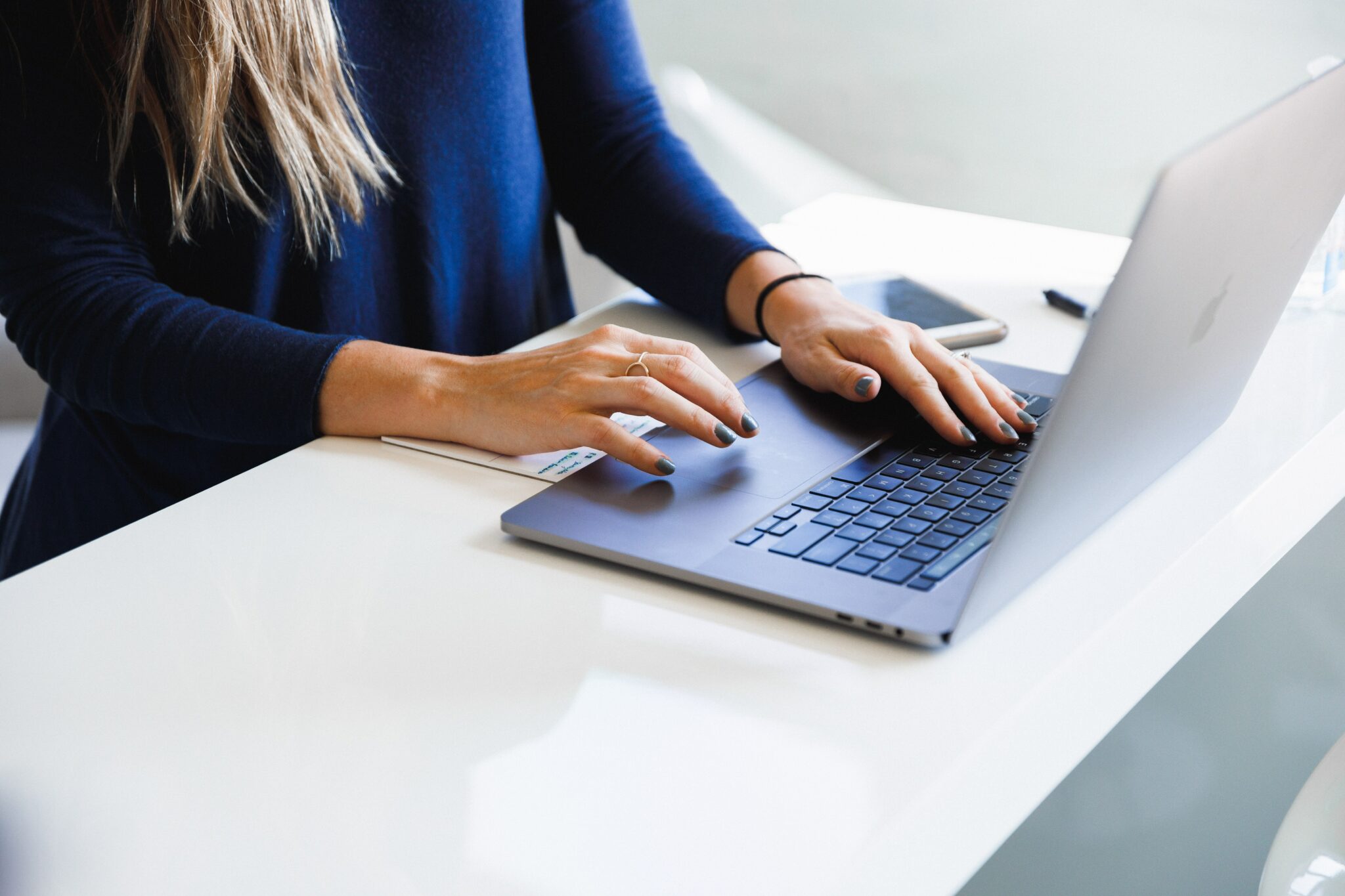 April 11, 2023
How to turn your marketing content into content to sell?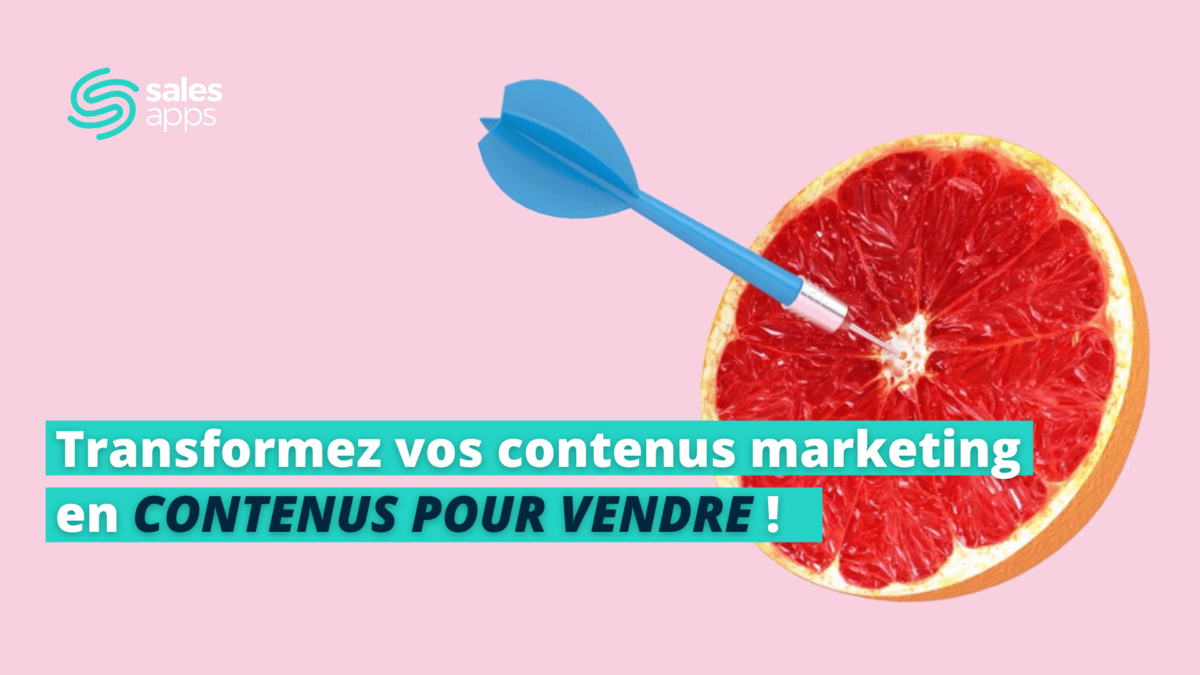 In France, only 43% of companies consider their Marketing and Sales departments to be aligned (CMIT 2022 study). This figure is slightly up on 2021. The relationship between sales teams and marketing content created for their use remains unclear at best, and often unsatisfactory/insufficient. In fact, 90% of marketing content is not used by sales reps (Jeff Ernst). In this article, we suggest that you transform your marketing content into content for sales!

I) WHY IS YOUR MARKETING CONTENT NOT BEING USED BY YOUR SALES REPS CUSTOMERS?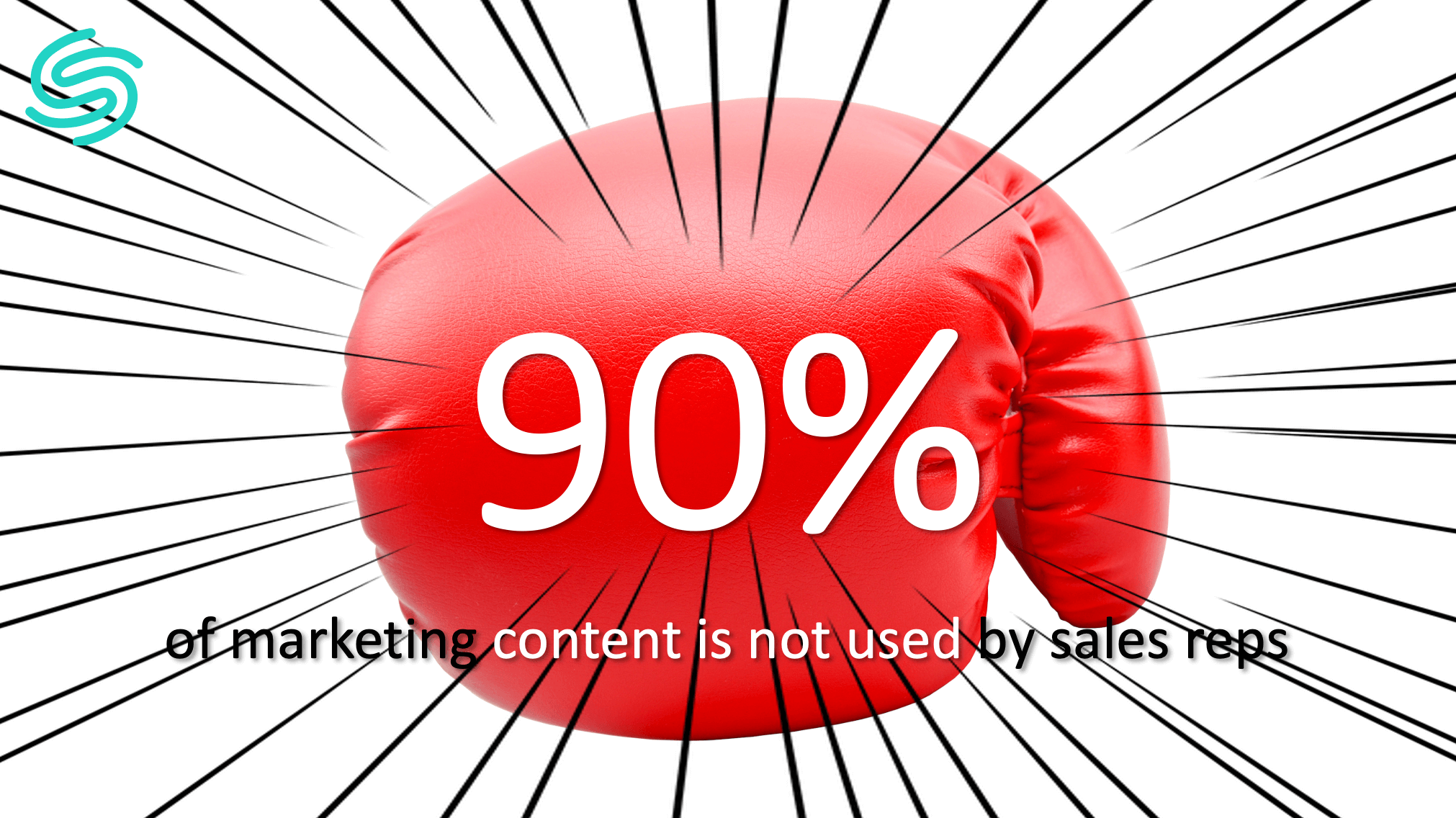 In their approach to marketing content, sales reps customers generally take a pragmatic approach, focusing on perceived added value for their day-to-day activities. There are many reasons why a salesperson might not use an asset. Putting aside deliberately antagonistic behavior, here are a few reasons why sales reps may not use your marketing content:
Too rigid and restrictive
Unknown to sales reps
Not suitable for sale
Too much content, too close to each other
Not customizable to the prospect/client
Not mastered by the salesperson
Not up to date or wrong
Inconsistent between them (website vs emailing ...)
Not accessible at the right time
Useless, already in possession of the prospect/client

Very often there are multiple reasons for this and since the sales person is solely responsible for his or her use of a medium, these reasons are unknown to Marketing. The fuzziness surrounding the relevance of a marketing support can be sublimated by the cheerful but poorly argued answer of the sales person on his use of the support in appointment.


II) WHY IS THIS A PROBLEM?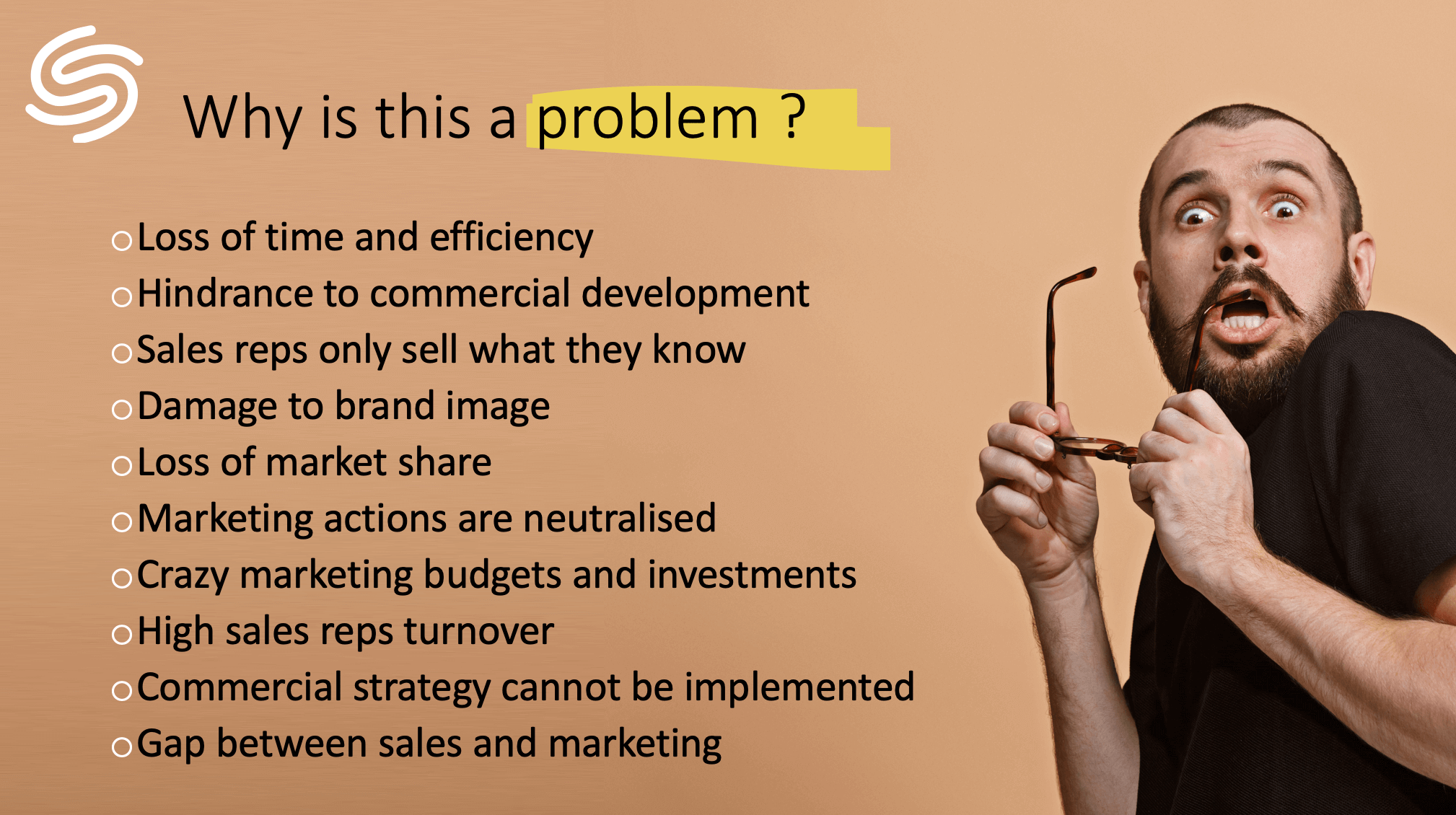 The vagueness around the use of content often hides many practices that have a real impact on the development of the company. Far from being limited to the traditional "it's a shame not to use it", the impact for the company is often underestimated. However, not using your marketing content generates numerous collateral effects. We can mention for example:
Loss of time and efficiency
Barrier to business development
The salesman only sells what he masters
Degradation of the brand image
Loss of market share
Marketing actions are neutralized
Crazy marketing budgets and investments
High commercial turnover
Impossible business strategy
Gap between business and marketing

Marketing content is at the heart of your company's relationship with your prospects and customers. The right constructive alignment of teams is key and generates growth.


III) A MARKETING CONTENT SKETCH TO SELL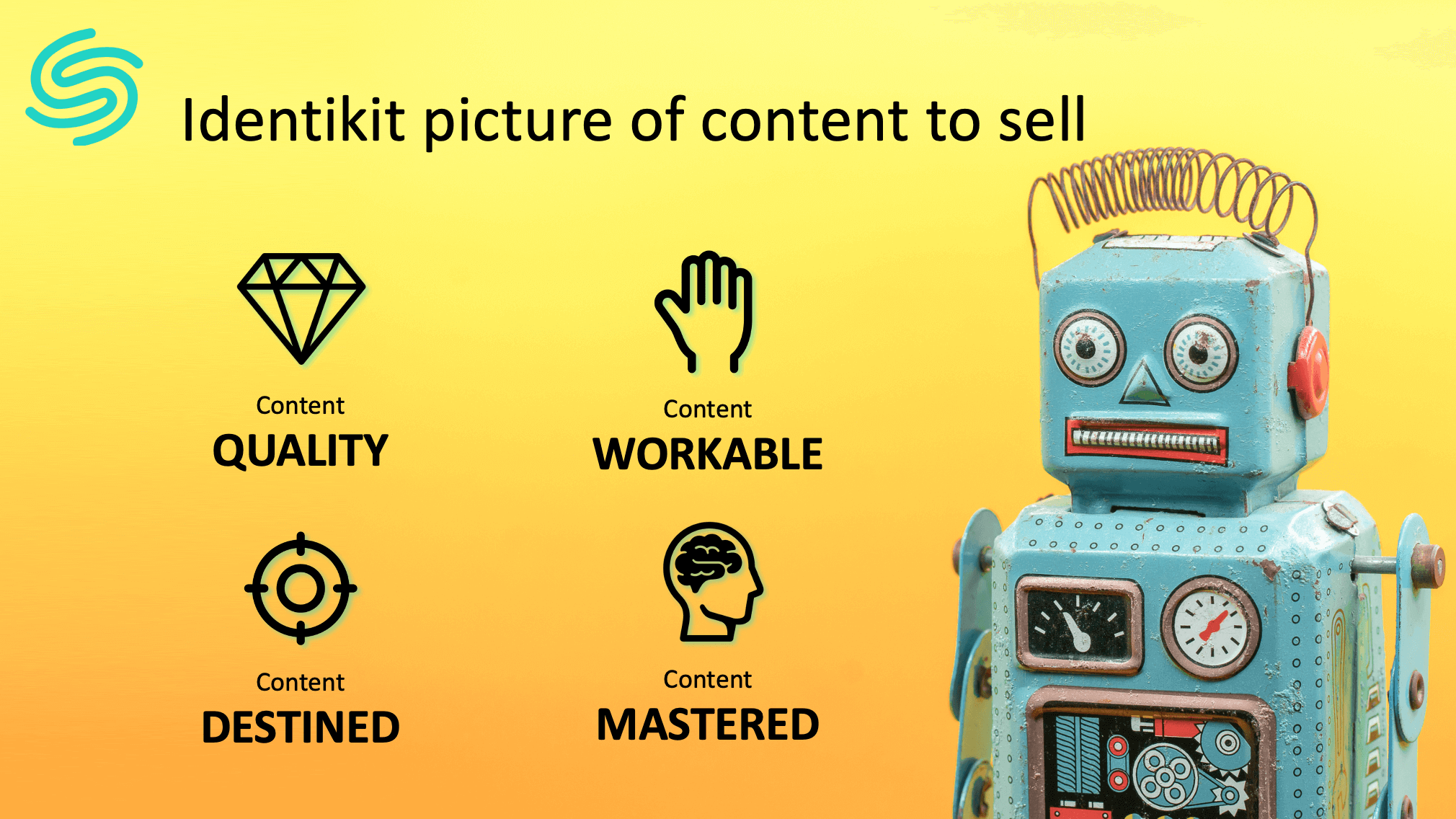 Turn your marketing content into content to sell. This approach allows you to refocus content in your sales approach and significantly boost its usage. At Salesapps, we call content to sell content:
of QUALITY
DESTINATES
MANIABLES
CONTROLLED
1. QUALITY marketing content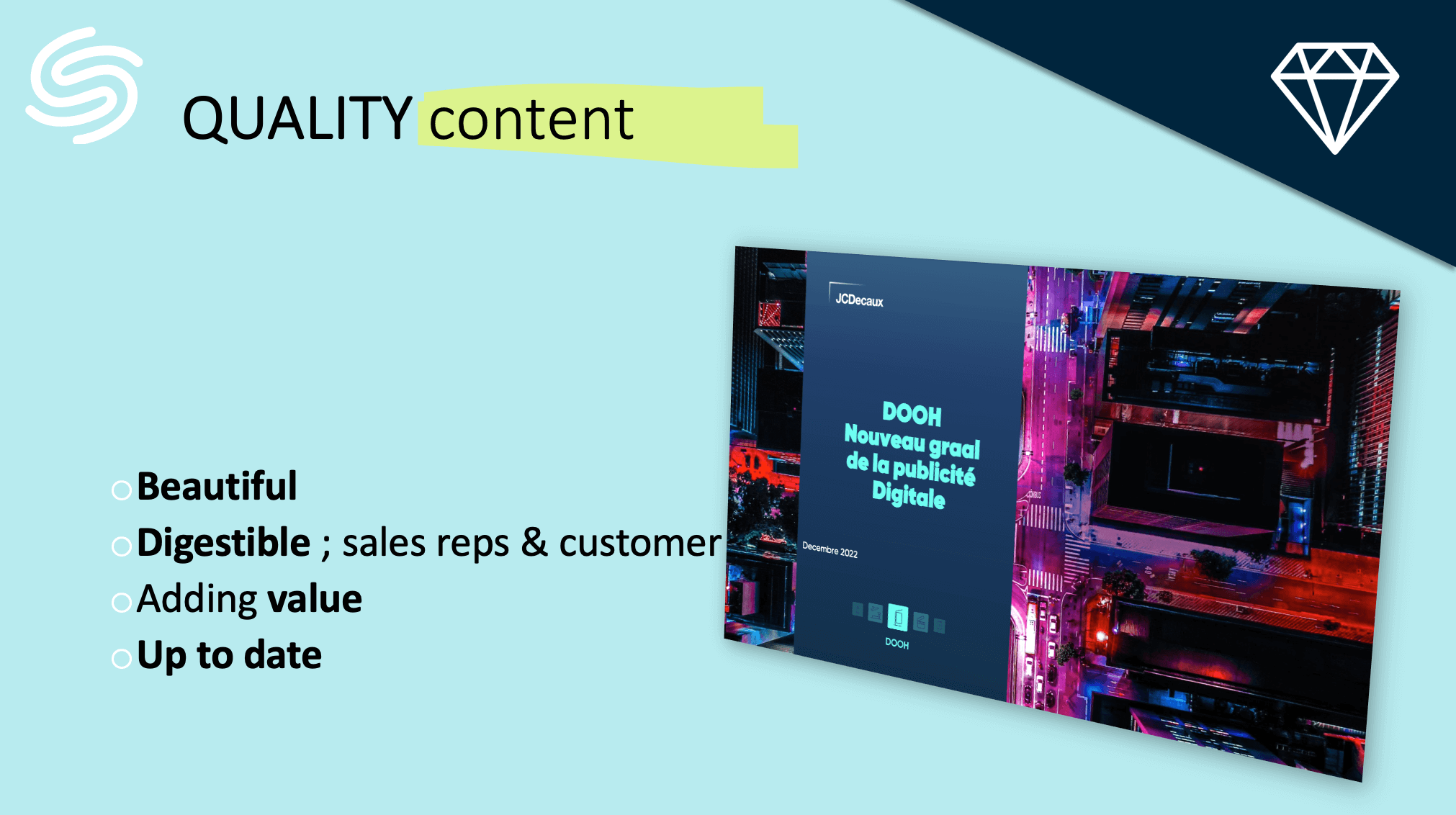 This is probably the most intuitive criteria for content to sell. To be used, a marketing content must be :
Appealing
Easy to digest for both the salesperson and the customer
Bringing added value to the sales process
Up to date!

The intrinsic quality of the content does not guarantee its use by your teams.


2. A marketing content DESIGNED FOR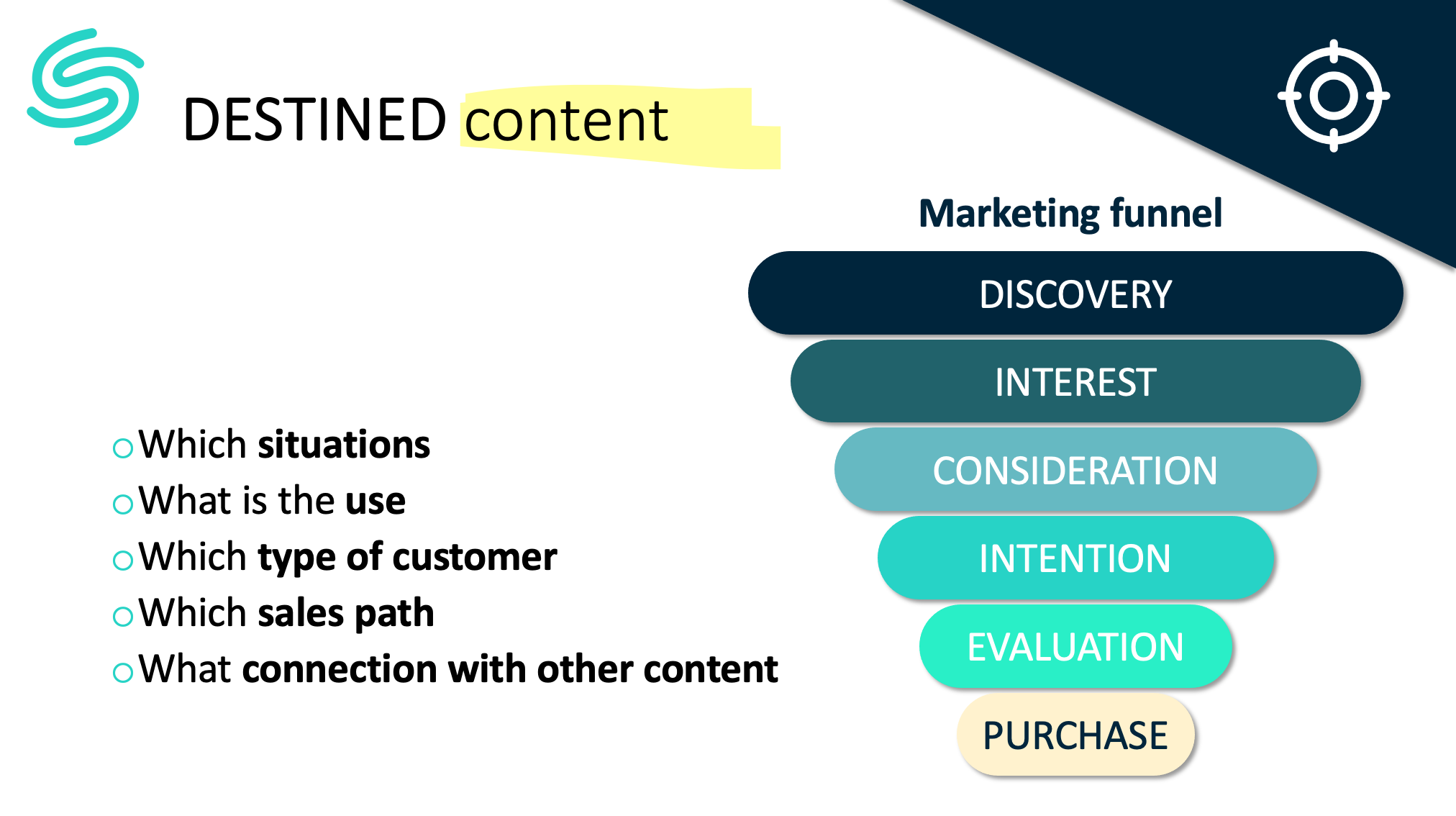 To be used, your marketing content must also have a defined use. In what situations can this content be used? What type of customer and questions does it answer?
Dedicating your content to specific uses allows you to delineate their use and professionalize them. For example, a customer reference can be presented with viewpoints adapted to different levels of maturity or for customers in different sectors of activity.
Targeting your content to specific uses through sales paths helps validate the relevance of information and reinforce the salesperson's message. It also makes it possible to synthesize the content available to sales reps and to interconnect content with a view to offering flexibility in appointments. For example:
A complete product catalog (product, technical details, illustration photo, complementary products, etc.) = very large and difficult to manage content. ) = very large content that is difficult to handle. No statistics can be used, except for the fact that the catalog is used or not.

VS

A tree structure of sales brochures, technical data sheets in linked documents are only displayed if the person is interested, the product range facilitates upsell and cross-sell, a filtered photo space makes it easy to identify the best shot based on several criteria, etc. To top it all off, marketing and sales management can analyze best practices in terms of bounce between content and reinforce what works best.

Targeting your content at sales reps is clearly a game changer, but it's still not enough.
3. WORKABLE marketing content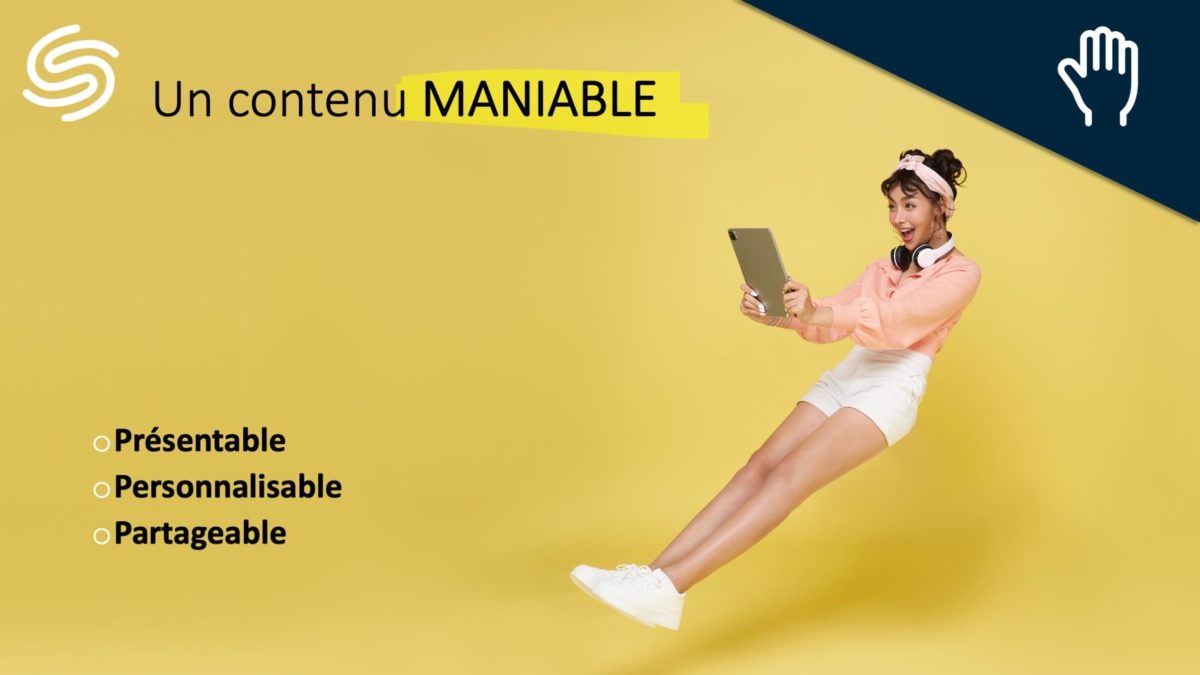 We have already discussed this in the paragraph on the destination of the content. Your marketing content must be usable in appointments:
Presentable
Customizable
Shareable

Marketing content must be pleasant to use and view. Far from simple graphics, the content must support the sales person's message and provide emotion. This content must also enable the personalization necessary to the sales approach, and facilitate sharing (regardless of connection and content weight) and sales follow-up. Designing your content in anticipation of this natural business need makes a major contribution to its use. So, in theory, you have quality content that's designed for use and easy to handle.

4. MASTERED marketing content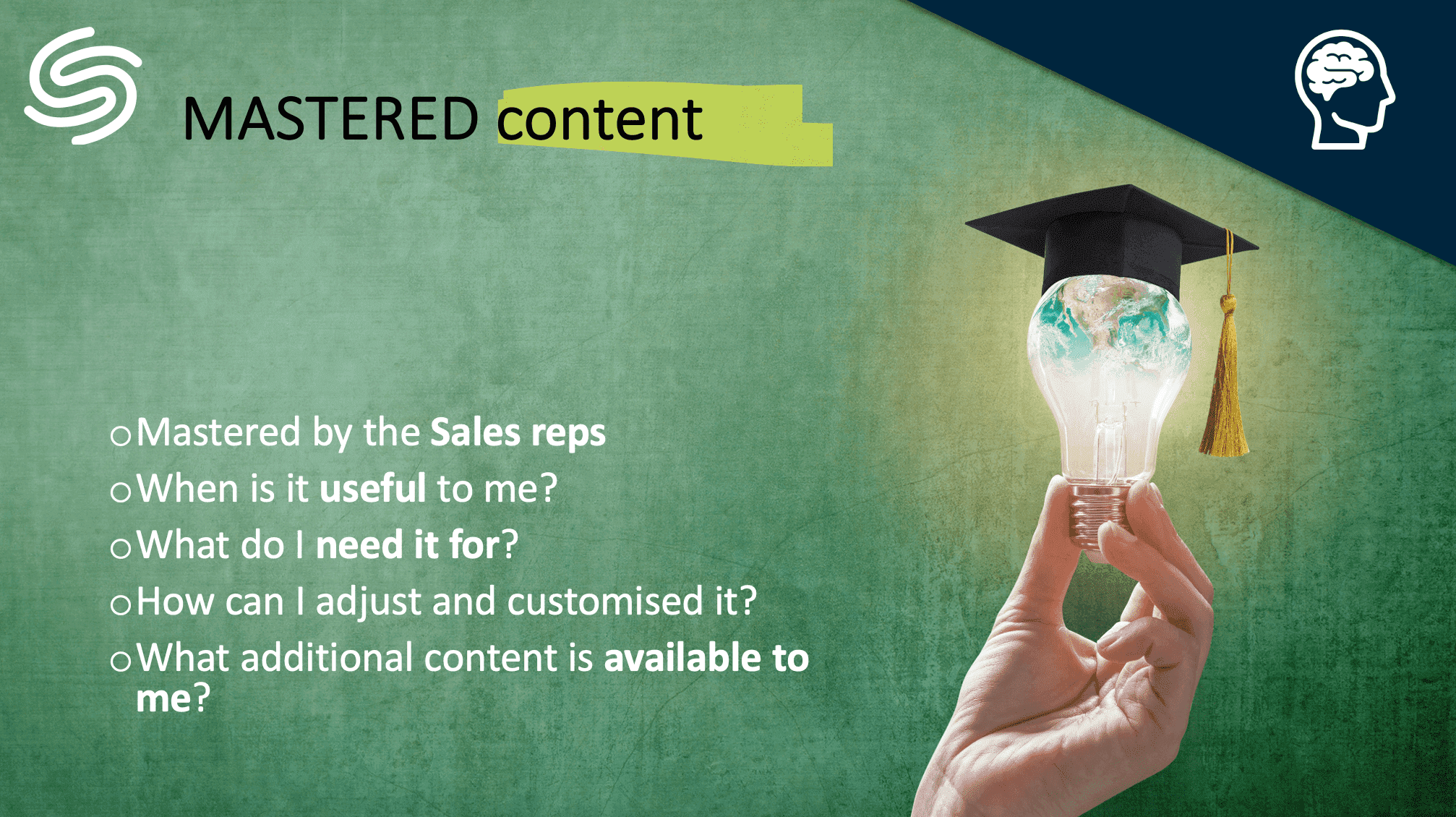 The last element that distinguishes content to sell from simple marketing content is the actual control of these elements by the sales person. In other words, content to sell must be mastered by the sales person. He must naturally be able to know :
When this content is useful
What is it used for in the commercial process
How to customize it effectively
What can he add to this content according to the client's feedback

This appropriation of content by the salesperson is often left largely to the salesperson. Yet it is from this appropriation that usage, ease of use and constructive feedback are born. Many structures limit themselves to recommending content.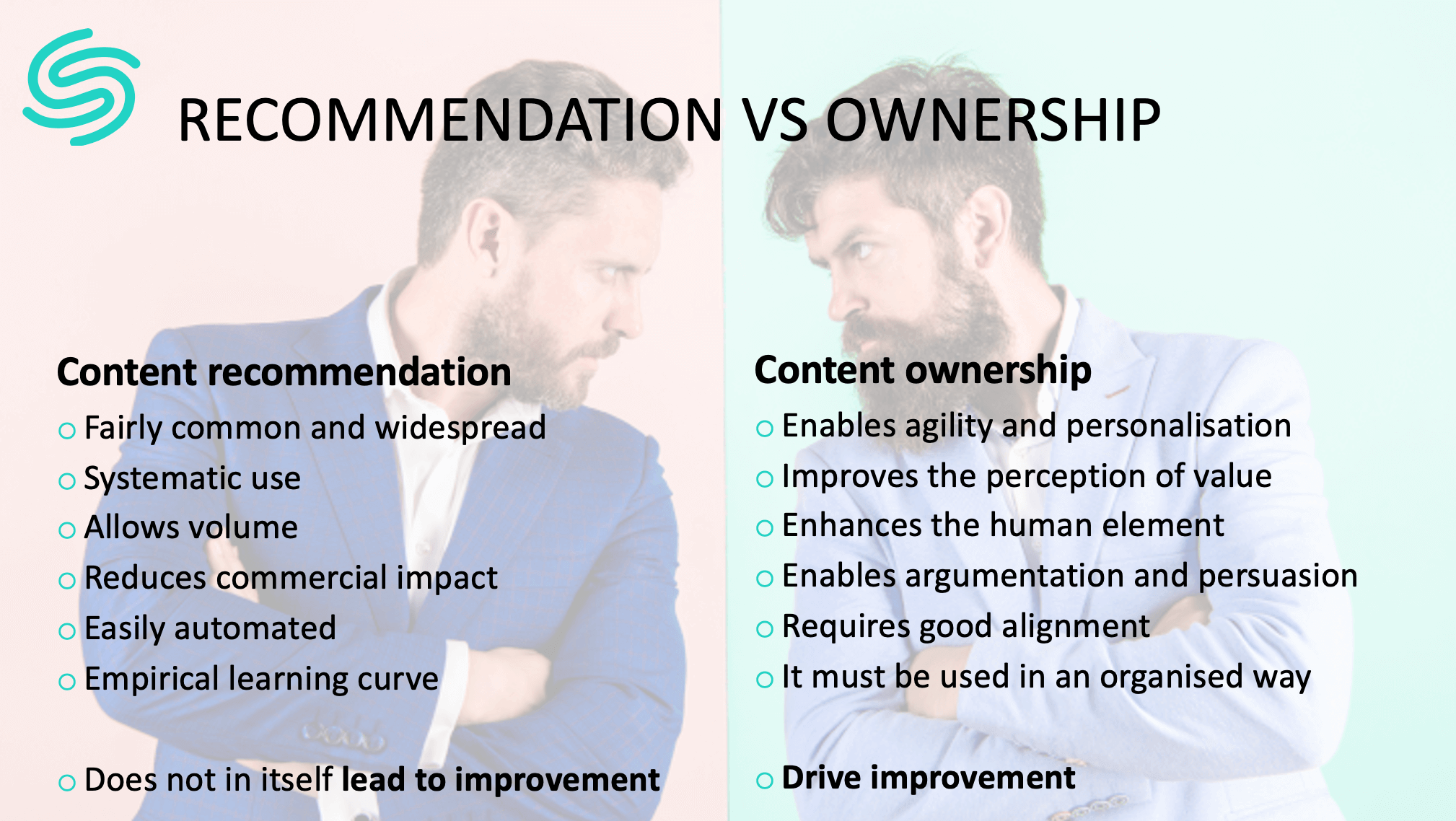 Recommendation is the simplest implementation, giving the illusion of alignment. I recommend such and such a presentation in such and such a situation. It's an easy automation that limits sales action. If your prospects receive your sales reps , it's for a more personalized and qualitative experience than simple automation. The salesperson's appropriation of the content significantly improves the perception of value for your customers. The salesperson's human element is strengthened, and mastery of the content enables argumentation and persuasion.
The appropriation by the commercial requires organization, but the game is worth the candle!
IV) MARKETING CONTENT = A PITCH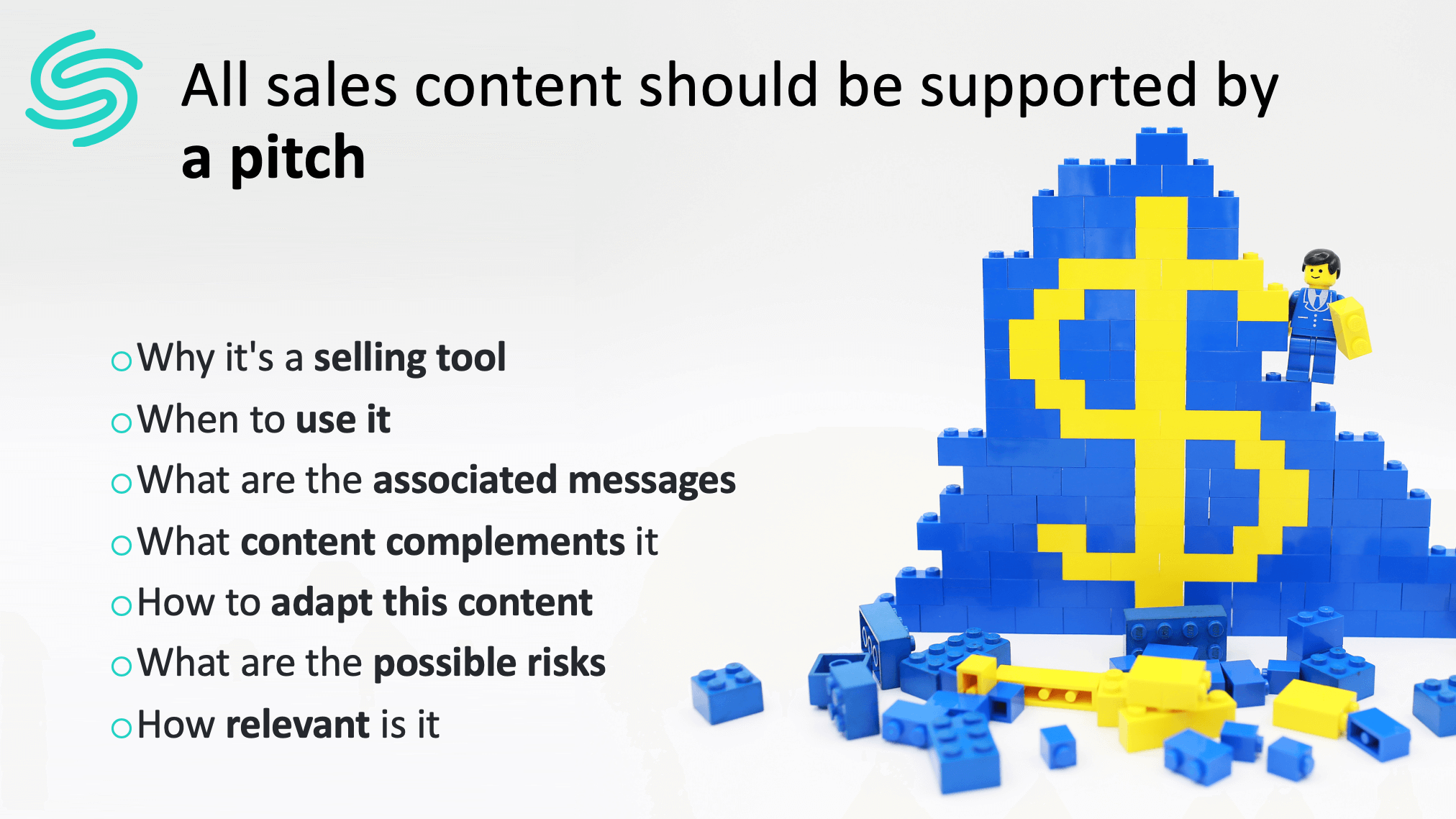 Thus each content should be accompanied by its pitch:
Why does it allow you to sell
When to use it
What are the associated discourses
What content complements it
How to adapt this content
What are the possible risks
What is its relevance

A content to sell is therefore much more than a marketing content. It is marketing content and all the organization to allow its use when the time comes by the salesperson.
It is this complexity that Salesapps proposes to help you master and structure. Thus, a content to sell is the ultra-refined product of a successful Sales x Marketing alignment:
Content that meets the needs of prospects, sales reps
Content whose marketing relevance is controlled by the sales reps
Content that fits the company's strategy
Content that facilitates the sale


V) SALESAPPS, YOUR BEST ASSET TO TRANSFORM YOUR MARKETING CONTENT INTO CONTENT TO SELL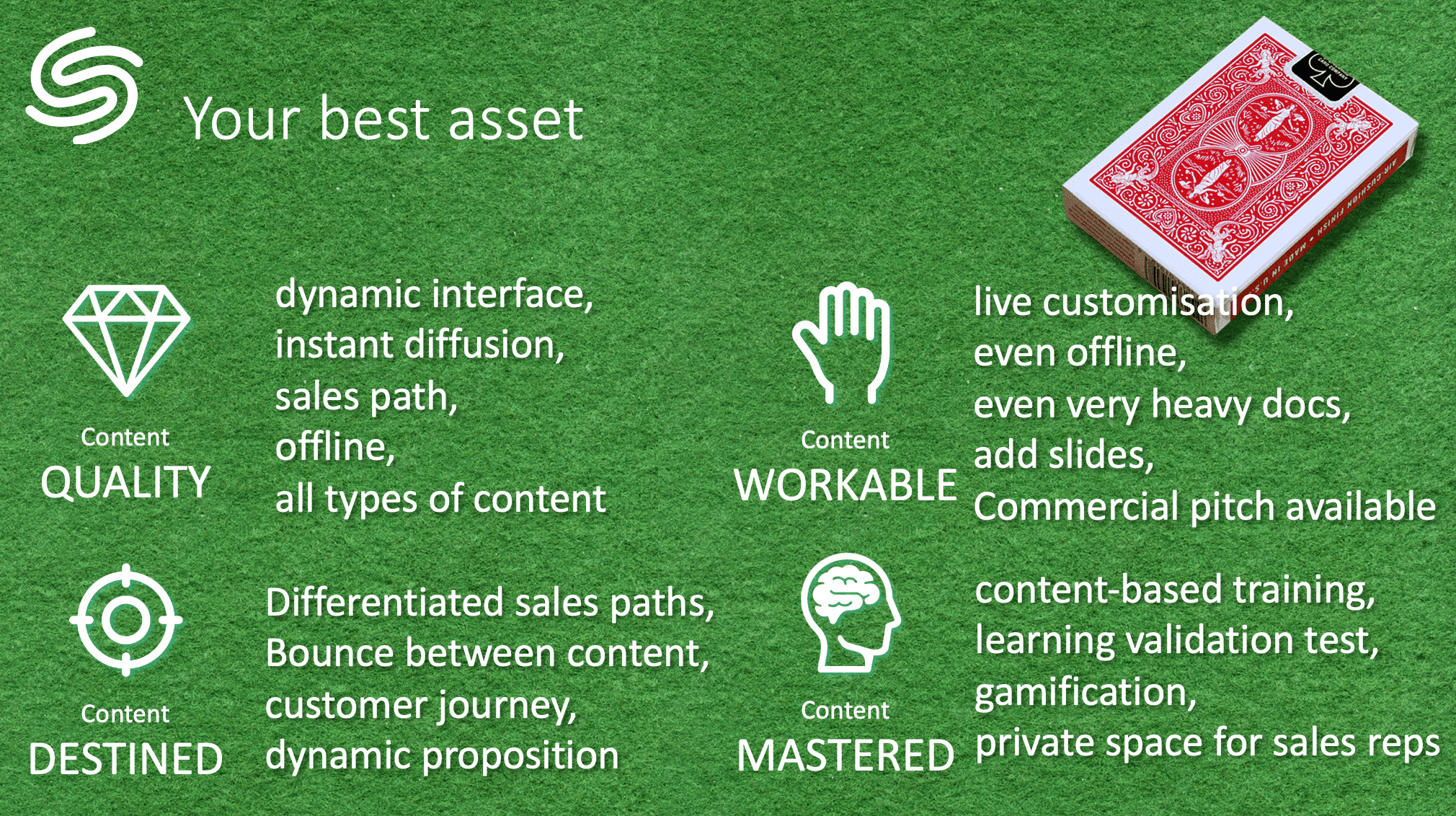 Salesapps contributes to the different attributes of a content to sell:
QUALITY content
A content DESTINED

WORKABLE content



A CONTROLLED content

A content to sell, more than a good content, a good organization around your content to maximize its use.
Salesapps facilitates the distribution of your content through a tree structure that follows your business approach, interconnecting content and facilitating their customization. Usage, sharing and reading statistics allow you to ensure that your content is relevant and mastered by your teams. You can also supplement the publication of your content with formative versions and quizzes tohelp salespeople deepen their understanding. The iteration dynamic allows you to engage the marketing and sales organization in a continuous improvement process that allows alignment.

Other articles that might interest you: