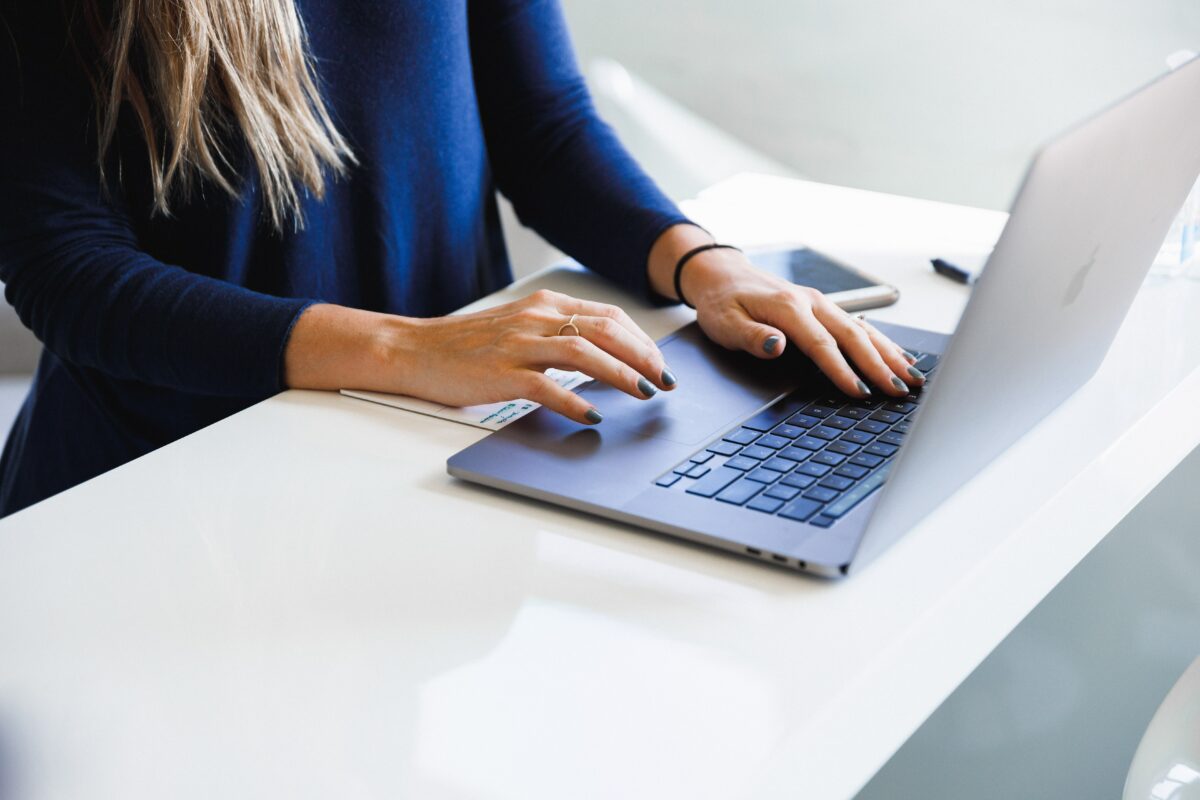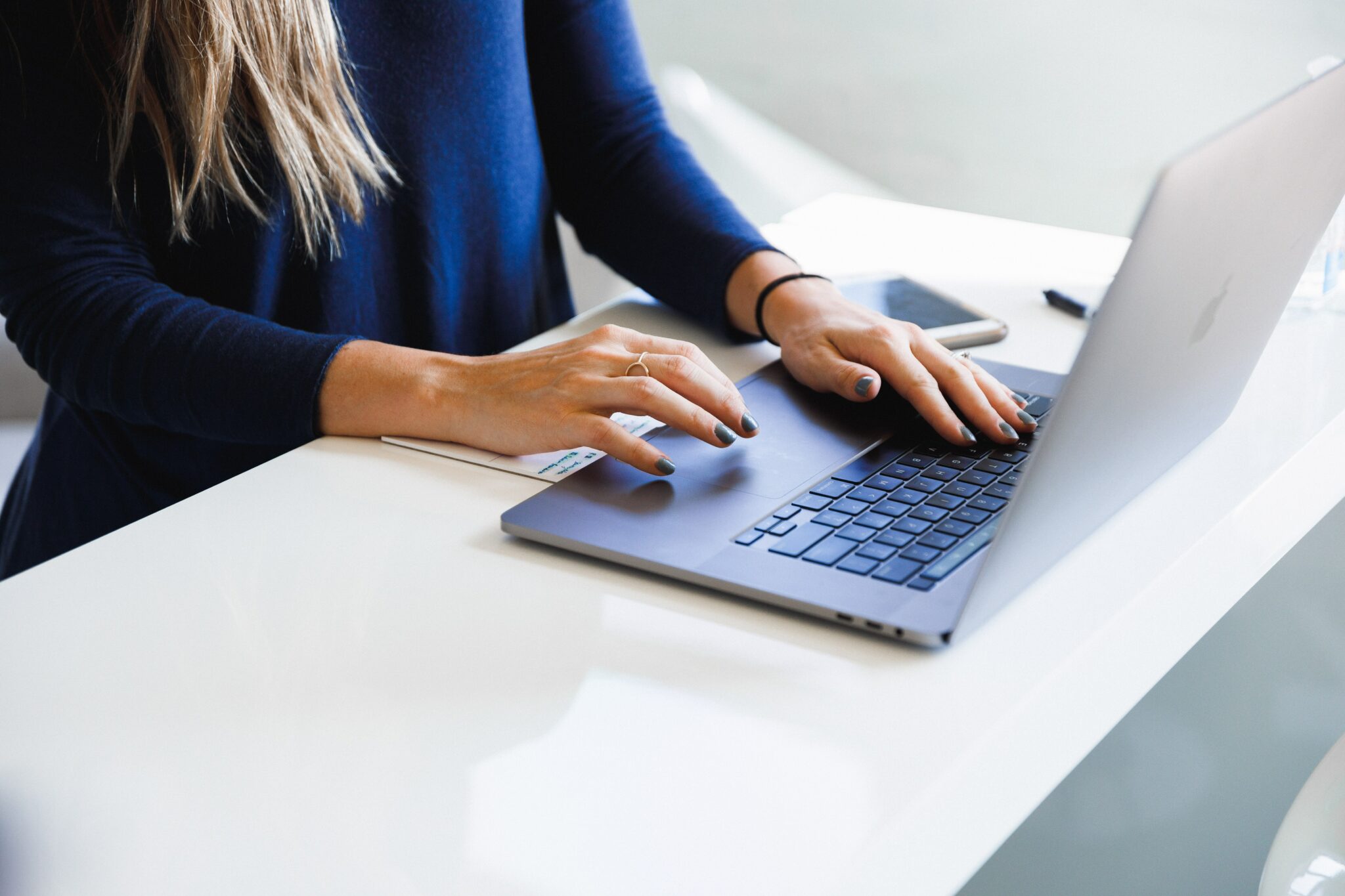 December 1, 2022
Action Co 2022 Awards: Adéquat X Salesapps, elected best Sales Enablement application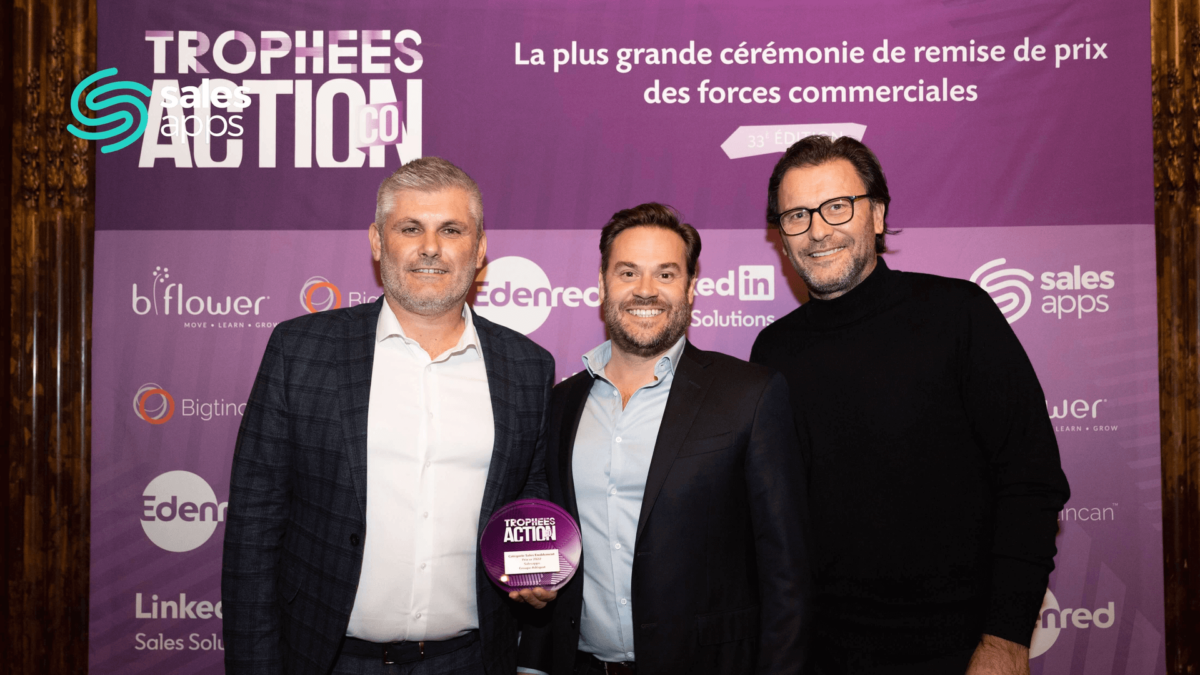 A LOOK BACK AT THE MEMORABLE OF THE ACTION CO 2022 AWARDS
The winners were announced last night! The evening spotlighted the best commercial initiatives of 2022. The winners were rewarded in several categories. These included Sales Manager of the Year (Marjorie Antoine from Fermob), Sales Force of the Year (Carglass) and, for the first time this year, Sales Enablement! We are proud to announce that the NOMAD application, deployed by Salesapps for the Adéquat Group, has been voted best Sales Enablement application at the Trophées Action Co 2022. Let's take a look back at the key factors behind this success with interviews with Benjamin Peyrache, Marketing & Communication Director - Groupe Adéquat and Eric Jayet, Performance Director - Groupe Adéquat .
THE ORIGINAL NEED OF GROUP ADEQUAT
With more than 400 sales reps, Adéquat Intérim & Recrutement is one of the major players in temporary work and recruitment in France. The Adéquat Group celebrated its 35th anniversary with 320 agencies, 12,000 customers and sales of over one billion euros. Operating in a highly competitive market, Adéquat wanted to accelerate its business development, develop value-added services and leave a personalized offer after each appointment. The application also needed to be easily scalable to keep pace with the company's evolving challenges and the needs of its sales force.

A need underlined by Benjamin Peyrache "We wanted Adéquat to bring together the needs of marketing and sales! To always have up-to-date and effective offers for appointments, and to be able to distribute our content quickly and at the right time to a sales force that is widely scattered across the country"..

NOMAD, A UNIQUE APPLICATION IN THE INTERIM AND RECRUITMENT MARKET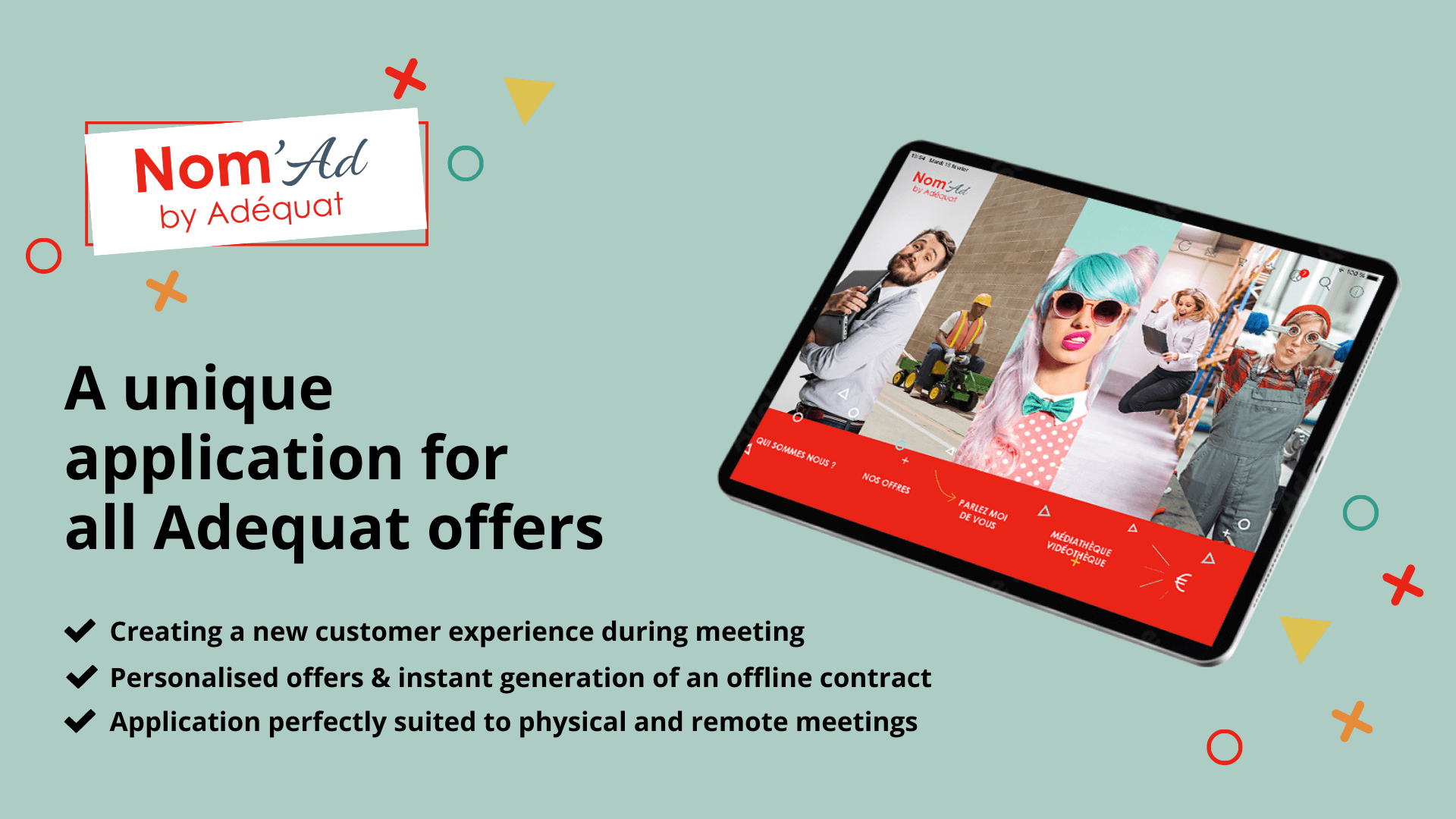 To meet its sales reps and marketing challenges, Adéquat Interim & Recrutement launched a consultation at the end of 2020 to equip its sales force with a new Sales Enablement application. The NOMAD application was deployed in a pilot region for 3 months, before being rolled out nationwide to all 400 sales reps. The result? As Eric Jayet explains, the application has become an indispensable part of the salesperson's daily routine. "In meetings, our sales reps staff can present, generate, personalize and build a price offer live, which is unique in our market"..

In addition to its innovative image in the world of temporary work and recruitment, the Salesapps application has modernized the salesperson's approach to appointments. Historically, sales reps Adéquat and, more generally, the sales forces operating in this sector, conducted customer appointments in the traditional way. "Replacing brochures, which were rapidly becoming obsolete, with a more digitalized approach was becoming a necessity! stresses Eric Jayet.

This digitalized approach has proved perfectly suited to both face-to-face and remote appointments. The hybrid model has been retained by the teams since the end of the pandemic, since 50% of appointments are still made remotely.

Sales staff can now create a new customer experience during appointments. The NOMAD application enables them to be more fluid and contextualize their approach according to the buyer. He's better equipped to promote his offer, and can now personalize each of the Group's 3 offers (Temporary Work, Recruitment and Services) using touch-sensitive forms, and instantly generate a contract that he can sign via the tablet.

For their part, managers have access to the KPIs they need to manage their business and facilitate their continuous improvement process. Available via a dashboard, the KPIs not only track the most consulted and shared content by salesperson type, but above all analyze the sales process during appointments. All shared content is equipped with trackers, providing management with precise traceability of usage by customers/prospects, and enabling sales reps to be more efficient during follow-ups.

ROIs ON TARGET!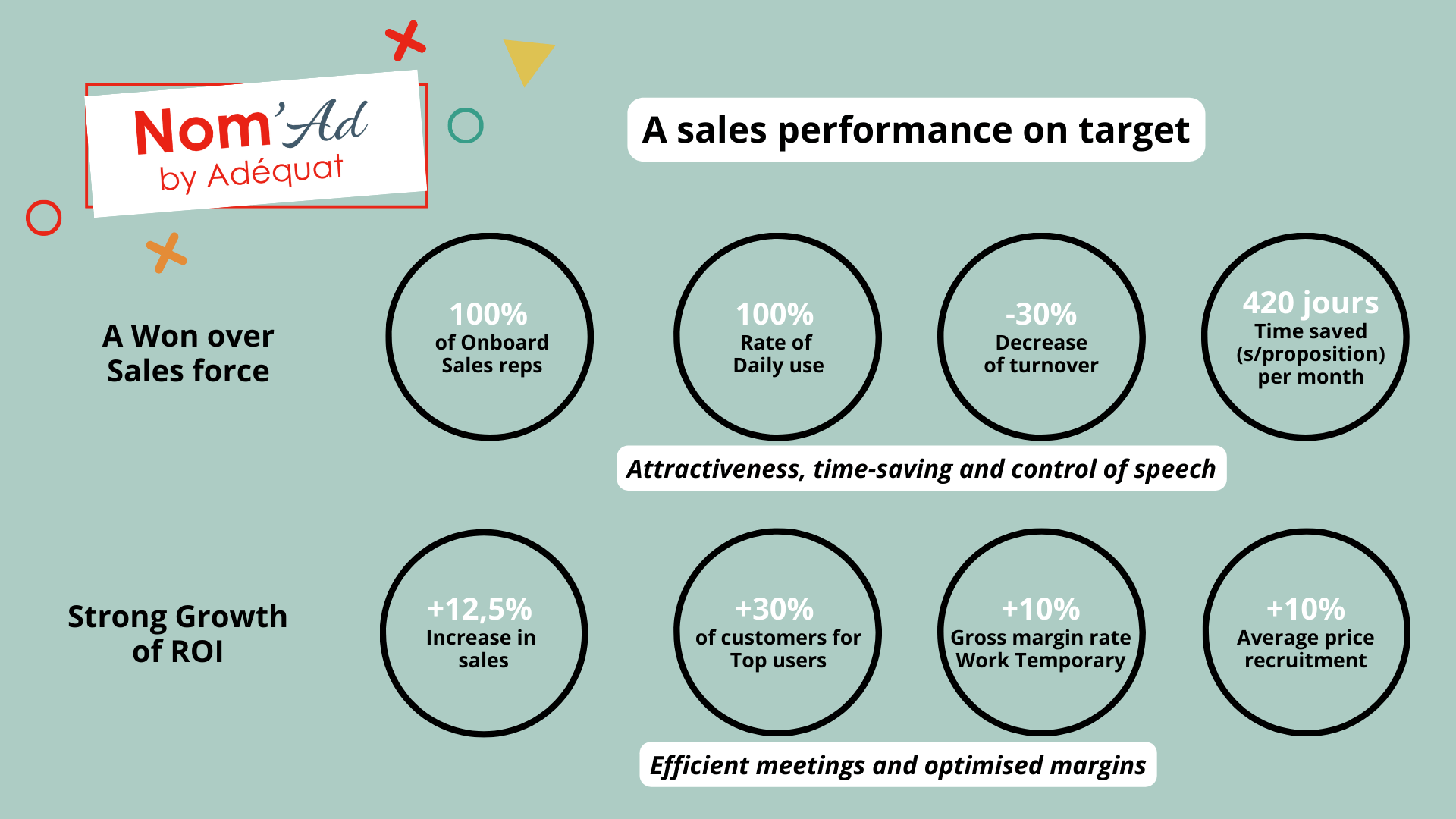 The application has enabled real-time sales and marketing alignment and significantly improved sales performance.

1- A conquered sales force
This performance can be assessed through a number of KPIs, starting with the adoption rate and the daily usage rate. These are the two most important KPIs for evaluating the performance of a Sales Enablement application, and they are excellent in the case of NOMAD. The adoption rate was 100% in the week following the training sessions, and the daily usage rate of the current application is 100%.

2- Positive attractiveness and rapid skills upgrading for sales reps
When it comes to enhancing sales reps skills, Sales Enablement is proving to be a formidable tool for ongoing training, as demonstrated by the +80% success rate in the quiz. The application's highly intuitive, fun design enhances sales staff's understanding of offers and their ability to structure their approach to buyers.

The Sales Enablement application is also a real asset for your employer brand! Introduced as early as the recruitment process, it conveys a modern image of the company and makes it easier for candidates to project themselves into their future activity. This highly professional and qualitative approach, used during the integration process and then in the sales person's day-to-day work, has enabled Adéquat to reduce turnover by 30% over 1 year.

3- Considerable time savings when creating customized offers
Adéquat's sales force has also saved precious time in creating customized offers. Live generation of a sales proposal has saved between 1 and 3 hours per week per sales person, an average saving of 420 days per month!

4- Developing higher-margin sales and services
Exceptional results from the first year:

+ 12.5% of sales for the target
+ 30% of new customers for top users
+ 10% of the Temporary Work Gross Margin Rate
+ 10% of the average price of a recruitment
+ 66% of ancillary costs

These results have undoubtedly enabled the NOMAD application to win the Action Co 2022 Trophies.

To find out more about the Adéquat Group's case study, click here

The press and media are talking about us! Find us on Action Co - le média des managers sales reps and emarketing.fr

Other articles that might interest you: